Online Teaching Business English Courses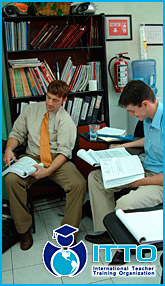 ITTO's Internationally Recognized Online Teaching Business English Courses are definitely an added value to your resume and very appealing to employers. Gain edge in employment by taking advantage of any of our TBE specialty courses, particularly as Business English is globally growing in importance. Teaching Business English is one of the most lucrative areas of TESOL. Since most business people learn in a one to one or small group context, we have a special module covering this approach, this form of teaching is an attractive alternative to teaching at either regular or language schools.
In these programs, we present all of these topics in a systematic and self-explanatory manner so that you can study not only at your own pace, but in the place and at the time that is most convenient for you, either: Tutor-Guided: 50 Hours or Self-Guided: 25 Hours.
Teaching Business English
The demand for Business English teachers has greatly increased in the past few years due to globalization and economical changes in the business world. This brings with it the necessity to hire effective teachers that can be part of this competitive world. With good reason, getting certified to teach business English will be valuable for your future. Almost all employers have higher standards than recent years so it can be quite difficult to find decent work or pay without a TEFL certificate. Not only do employers have higher expectations but more students do as well. But what does it mean to be an effective teacher?
During the program, you will learn how to:
Gather, interpret and use information to fulfill your students' work-related needs..
Customize courses by selecting and designing genuine materials in the field of business.
Teach groups or private lessons.
Make effective use of technology to support your courses.
Be able to work with groups as well as in a one-on-one situations.
Find ways to keep yourself updated in this teaching field.
A TBE Certificate is very useful for increasing your salary, as you can:
Earn more for a TBE lesson than just a regular ESL lesson.
Give private classes to businesspeople.
Coach group classes to a company's whole staff.
Teach Business English Classes at language schools.
Included in the course fee:
Internationally Recognized Certifications
Encouraging of independent learning strategies
8 units of Downloadable material for future reference
Six months maximum to finish the course
25-hour Self-Guided Certificate or 50-hour Certificate
Live chat administrative assistance
Access to open forums for future discussions with peers and Tutors
Lifelong job guidance and employment contacts worldwide on Tutor-Guided TBE Course
Access to the Grads' Corner upon completion of your Online TBE Course
The online program has been divided into 8 different chapters to facilitate reading. You will get fully downloadable material for personal use and future reference. These Specialty Certificate Programs are quite thorough and you will obtain an enormous amount of information, which will aid you in becoming an excellent business English teacher. Browse through the course content!
Why take a Teaching Business English Course?
The English language is used in the business world. In fact, some of the most outstanding MBA courses in Spain and France are conducted in English. Moreover, numerous businesses hire business English teachers to teach, advise, and aid their executives and staff in business English. Some professionals, such as lawyers and CEOs want to improve their English for negotiation skills on which they rely so heavily. With this specialty certificate, you can improve your resume and earn a lot more money by teaching private lessons to business people or classes at language schools. You will be working with some of the most influential people on the planet!
Choose the best training for you!
This program deals specifically with the teaching of Business English. You should already have previous teaching training and you should be familiar with different techniques to plan lessons and to introduce English as a new language. Or, you should hold a TEFL/TESOL/TESL Certificate of at least 100 hours by ITTO or by any other reputable institution. The teaching of general English is mentioned, but it does not form a major part of this course. Our purpose is to provide a comprehensive guide to the teaching of Business English.
If you already have a TEFL certificate, choose the best for you!:
50 Hour Online TBE Course (Tutor-Guided): $195 USD
25 Hour Online TBE Course (Self-Guided): $60 USD! - Regular Price: $95 USD
Enhance your skills and improve your life!
Apply Now