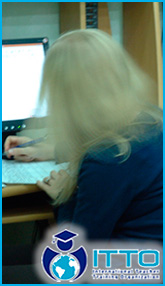 Undoubtedly you have come across and scrutinized a wide range of online Teaching English as a Foreign or Second Language training courses presented by different providers. However, no ethical provider would dare offer anything less than the internationally established standards.
The following are just some of the many benefits you receive as an ITTO student:
140 hours of course material. Most employers will require you to have a 120-hour certificate. ITTO is one of the very few providers that meet this criterion. Shorter courses will definitely affect your employment options. Compare ITTO and other companies.
Round coverage in one course, Teaching Business English + one to one, giving you the skills to teach both groups and individuals in what is the most lucrative area of TESOL.
You will be assigned a tutor who will assist you throughout your training. She/he will keep track of your work, assignments and participation. She/he will answer additional questions you may have related to the unit of study, monitor discussion groups, help you find references and assess the value of the information you collect. Rest assured that your personal tutor will be diligent in correcting your assignments. In general her/his role will be that of a facilitator of your learning process.
Lifelong Job Guidance Program. ITTO provides strong support in teaching you job search strategies, cover letter techniques and resume building. Feel free to contact us any time after graduation and we will be glad to provide information on any teaching related topic. We even go a step further and provide direct employment contacts for practically any city around the world.
Delivery of updated contents and hands-on material for you to become actively involved in teaching and learning.
The contents and activities of our programs are delivered through a premier e-learning platform, meaning, these are not based on e-mail or task sheets. It is a fully interactive, state of the art platform. See what our course fee offers. Our course is comprehensive and truthfully takes 140 hours to complete. Thus, you will attend a virtual school on the internet.
Do not just take our word for it, read what our trainees have to say about our course!
There is no need to download any programs or purchase any extra material or textbooks. You will be provided with ITTO's very own materials needed for the completion of your course. You will not have to worry about adding another expense by buying other books. See what the course fee includes.
Continuous assessment through graded quizzes, assignments and self-evaluations. You will have personalized continuous support and appraisal. Not only at the end of the course.
A collaborative learning environment. Interact with your tutor or other students in a discussion forum or live chats.
You will also receive a permanent job companion; ITTO's very own "Job Search and Interview Techniques for Today's Marketplace". Links to over 200 different TEFL related web sites and other resources.
Our commitment does not end once you graduate. After course completion you will be provided with:
– Resume building and appraisal
– Support on any teaching related issue
– Employment contacts worldwide
– Lifelong access to our Teaching Abroad Helpdesk.
Review the advantages that our Teacher Training Programs offer you, surf through our pages, and get ready to start your life career as an International English teacher.