Online TEYL Course: Teach English to Young Learners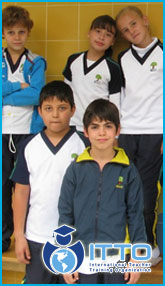 The International Teacher Training Organization also offers a 25 Hour Online Teaching English to Young Learners Certificate Course, also well known as TEYL Course.
ITTO's Online TEYL Certification was designed specifically to meet the ever-increasing demand for qualified English as a Foreign Language (EFL) teachers of young learners in non-English speaking countries around the world. The objective of this 25 Hour Self-Guided Certificate Course is to help you get familiar with the different aspects of teaching English to children, whether pre-school or primary school age, so that you can build a solid foundation and have confidence in teaching this age group. Once you have completed the course, the material will be a valuable resource for years to come! Review the requirements.
Teaching English to Young Learners
The art of Teaching Young Learners is a specific skill which needs specific training to be performed effectively. The majority of Teaching English as a Foreign Language courses focus on teaching adults. This results in TEFL certificate holders who would like to teach children finding themselves without the necessary skills and ability to be able to teach Young Learners effectively. This specific program aims at providing recently graduated EFL teachers or practicing teachers with the necessary skills, confidence and ability to be able to teach Young Learners to maximum effect; this Self-Guided Course gives a strong foundation in the methodology behind teaching children. With an ever increasing demand for TEYL certificate holders around the world, completing the course will give you the additional skills and qualification to Teach English to Young Learners anywhere in the world.
See Course Content.
With ITTO's Teaching English to Young Learners Specialty Certificate Program you will:
Know the main differences between teaching adults and young learners.
Review different language learning theories.
Learn about the important role that parents play in TEYL.
Examine the different learning stages as well as the Multiple Intelligences Theory.
Discover teaching resources, learn how to adapt textbooks, and create useful materials of your own.
Discuss critical aspects of lesson planning for young students.
Study important key tips to follow, along with common pitfalls to avoid.
Become familiar with various dynamics and useful tips for successfully managing your classroom.
Explore crucial socio-cultural factors.
Determine useful assessment guidelines and techniques targeted for teaching children.
Discover a wide variety of tried and tested examples of English teaching activities.
Find effective ideas for teaching listening, speaking, reading, writing, vocabulary, and grammar.
Become skilled at tracking progress, reducing anxiety, and setting your TEYL class up for success!
Included in the course fee of $60 USD (Regular Price: $95 USD):
Internationally Recognized Certificate.
25 hours of downloadable and printable course material.
Tons of teaching resources.
6 months to work at your own pace.
Live chat administrative assistance.
Lifelong access to our Grads' Corner.
Note: You must have a TEFL, TESOL, or TESL Certificate to qualify for any Specialty Course. If you do not have one, sign up for ITTO's Online TEFL + TEYL Courses. Contact us for details.