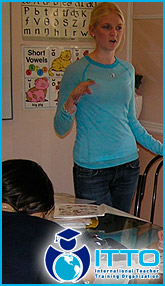 If you are certain that teaching English as a Foreign or Second Language is for you, take this course, which has the highest qualifications for teaching abroad. Included:
– 8 units with the most relevant topics on English teaching.
– One unit with a grammar and pronunciation refresher.
– 8 practice tasks and a Final Project.
– Self-reflection journals.
– Extra readings.
– Personal Tutor Support.
– Discussion forums where you can exchange ideas with students from around the world.
– This program qualifies you for the Job Offers.
UNIT 1: THE TEACHING AND LEARNING PROCESS
Lesson 1.1
Lesson 1.2
The Learner & Learning Styles
Types of Learners
Lesson 1.3
Characteristics of an Effective Teacher
The Roles of a Teacher
Lesson 1.4
Approaches & Teaching Methodologies
Lesson 1.5
[+] See a brief description of this Unit
UNIT 2: VOCABULARY
Lesson 2.1
Relationship Between Language Structure & Vocabulary
The Role of Vocabulary
Items that Constitute Vocabulary
Lesson 2.2
Strategies for Teaching Vocabulary
Lesson 2.3
Games & Activities to Teach Vocabulary
[+] See a brief description of this Unit
UNIT 3: GRAMMAR
Lesson 3.1
Why Grammar?
Problems Teaching Grammar
Advantages of Teaching Grammar
Lesson 3.2
Model: Introducing a New Language Structure
Lead-in
Elicitation
Presentation
Controlled Practice
Freer Practice
Lesson 3.3
Identifying the Stages & Giving Comments.
[+] See a brief description of this Unit
UNIT 4: THE FOUR SKILLS
Lesson 4A.1 Receptive Skills
You will discuss aspects related to the receptive skills. You will study some strategies and activities to develop your students' reading and listening skills.
Strategies for Reading & Listening: Skimming Scanning, Prediction, Detailed Information, Deduction and Context Clues
Lesson 4A.2 Model: Presentation of a Reading or Listening Activity
You will analyze a model lesson plan for reading or listening class and will create your own lesson plan based on this model.
Considerations
Ideas & Tasks for a Reading or Listening Activity
Lesson 4B.1 Productive Skills (speaking and writing)
Characteristics of the Productive Skills
Speaking Activities
Writing Activities
[+] See a brief description of this Unit
UNIT 5: CLASSROOM MANAGEMENT
Lesson 5.1 Communication
You will be aware of and will observe aspects related to verbal and non-verbal communication.
Lesson 5.2 Interaction & Grouping
You will be made aware of different forms of classroom interaction and you will explore ideas of group formation.
Lesson 5.3 Teaching Aids & Materials
You will be aware and will reflect on some of the advantages and disadvantages of selecting different types of teaching aids to support your class.
Lesson 5.4 Error Correction
You will identify the differences between error mistake and you will be aware of some techniques to correct errors.
Lesson 5.5 Discipline
You will be aware of what causes indiscipline in a classroom and how this can be prevented in order to promote effective learning.
[+] See a brief description of this Unit
UNIT 6: PLANNING
Lesson 6.1
Essential Ingredients for an Effectively Planned Lesson
Pre-Lesson & Post-Lesson Check Lists
Evaluating a Lesson Plan
[+] See a brief description of this Unit
UNIT 7: GAMES
Lesson 7.1


Why Using Games in the Classroom is Effective


Games and Resources for Language Games
[+] See a brief description of this Unit
UNIT 8: GRAMMAR & PRONUNCIATION
Lesson 8.1


Basis of Grammar Structures & Phonology


Practical Activities & Suggestions
[+] See a brief description of this Unit