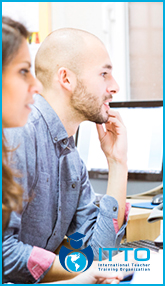 TED (Technology, Entertainment, Design) is a set of conferences run under the slogan "Ideas Worth Spreading". TED has always believed that good ideas have the power to change attitudes and lives. With this passionate philosophy in mind, TED Talks was born. In this course, you will learn how TED Talks and TED Ed. will add life to your EFL lessons while you interest your students in relevant topics.
Benefits of using TED Talks in the classroom
Teaching, especially a foreign language, is all about getting students to share their ideas in the classroom. TED aids teachers in bringing these ideas into conversation and debate. TED Talks are more than just an article, a book, or an audio file found in a course book. Yes, these resources all contain useful information and vocabulary. However, at their very best, they are not as engaging as perhaps they could be. These are conferences that spark genuine interest and provoke real conversation!
Lesson plans featuring TED Talks can be used to explore authentic and diverse points of view, interesting questions, or even bring world conflict into classroom discussions. Students will be able to get into the topic, understand something beyond the language they are learning, and share their views in an authentic and interesting way. Whether you plan to use original TED Talks or TED Ed. videos, you can find out how to engage students of all ages in your classroom.