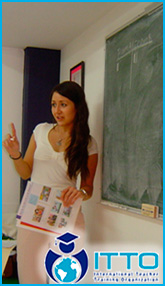 We invite you to Guadalajara, Mexico for an amazing experience!
In 5 days, you can teach 10 different classes to real EFL students. Having taught legitimate classes increases your chances of teaching English around the world; having an online TEFL certification plus at least 10 hours of practice is equivalent to an onsite 4 week certification!
5-Day Teaching Practice Program:
Due to popular demand, the International Teacher Training Organization (ITTO) has extended its services to those holding an online TEFL certificate of a minimum of 100 hours, to have the opportunity of concluding or furthering their studies with actual, live teaching practices in Guadalajara, Mexico since the first day you arrive!
In ITTO's Internationally Recognized Teaching Practices Certificate Program, trainees have training with genuine EFL students at our Partner School with 2000+ students of all ages and of all levels of study. Also, if you are a native English speaker holding a college degree, you will automatically qualify for a guaranteed paid job placement in Mexico!