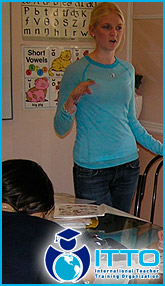 Choosing the right certification program is not just about the brand, the website, or the school's location. There are other factors that should also be considered. One of these factors is the academic and professional organizations that the school is a member of.
ITTO is accredited by the Secretary of Education in Mexico
And is also a member of some of the most important international organizations in the TEFL industry and abides by their code of practice and ethics. Check out the organizations ITTO is a member of and read how this improves your experience with us.
—
Top TEFL Course Providers: Value
A TEFL course is an investment in one's future: it requires committing both time and money to make yourself a better teacher. We ask reviewers to rate the affordability and cost of the TEFL course they took, compared to the value they received.

Top TEFL Course Providers: Academic Rigor
A good TEFL course both challenges the prospective teacher and enhances their confidence to manage and lead a classroom. We ask reviewers to rate how challenging they found the TEFL course they were enrolled in.

The College of Teachers has been modifying the face of education in the United Kingdom since 1849. As a member, ITTO implements the code of professional practice and guarantees the academic quality of all courses at all times. Through the College of Teachers, we provide all of our graduates a very clear perspective on academic expectations in Europe, as well as a presence in the old continent.

ACTFL: The American Council on the Teaching of Foreign Languages has been providing assistance and guidance to the TEFL industry for more than 25 years. As a member, ITTO has access to the newest information in methodology and pedagogical research, support from internationally recognized leaders in the field, as well as a network of partners around the world. This allows ITTO to provide you with the tools you need to prepare your students to take part successfully in today's multilingual world and global economy, therefore, increasing your total value as a teacher.

IATEFL: The International Association of Teachers of English as a Foreign Language was founded in the United Kingdom in 1967; it now has over 3,500 members in 100 different countries around the world. As a member, ITTO can provide opportunities for international networking and professional development in the EFL field. Also, ITTO constantly improves the quality of its courses and publications and offers a supportive and caring environment for all of its trainees due to the constant contact and influx of ideas from other members worldwide.

IALLT: The International Association for Language Learning Technology was established in 1965 and its members are leaders in the development, incorporation, assessment and organization of instructional technology for the teaching and learning of languages. As part of IALLT, ITTO accesses privileged resources for future EFL classrooms. Your study time with ITTO will not only teach you how to be a great and successful EFL teacher, but it will also have a considerable collection of technology devices for you to know and use in your practice and teaching career.

AMCHAM: The American Chamber of Commerce / Mexico was founded in 1917 and today groups more than 1,500 companies from the United States, Mexico and other countries, from all sectors and sizes, and more than 10,000 top notch executives. As a member, ITTO incorporates the highest standards of quality in student services, providing you with the best experience available. Additionally, being a member of AMCHAM allows us to have contact with some of the most important schools and companies in Mexico for successful job placement, especially during the Teaching Practices.

WYSE Work Abroad: WYSE Work Abroad is the world's leading association that represents trusted organizations specializing in work abroad. WYSE Work Abroad members are active in over 40 countries worldwide.