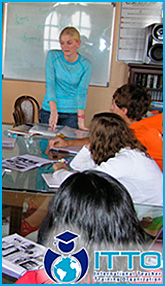 Practical and Economical:
Our Teaching English as a Foreign Language programs are practical and economical alternatives to on-site courses. Many people are interested in a teaching English career but do not have the time or money to travel somewhere to take part in an actual classroom immersion environment. Also, some people do not necessarily want to devote their lives to teaching. They simply want to travel and see the world for a few months or a few years, and teaching English is the perfect way to make money during their travels. An online course allows people to gain this certification at their own pace, often while they are living at home and working in a completely different field.
Our courses combine the convenience of receiving our certification and training from anywhere in the world, working and progressing at your own pace, with some of the great features you would expect to receive from an onsite program. Our program minimizes any potential problems with distance learning through a user-friendly interactive platform and hands-on, consistent support from your personal tutor. The programs combine media types to make sure you get the best learning experience possible. Take the demo lesson.
If you want to enroll but money is stretched, you will be happy to know that ITTO works to make teacher training more accessible and affordable for students and families; ITTO has assisted hundreds of students by financing their teacher training. With an interest-free loan, you make 2 small payments of the current price instead of one lump sum, paying the 2nd payment exactly one month after your acceptance date.
Please bear in mind that failure to meet payment may affect your credit records and your eligibility to obtain future credit/loans.
In-depth Course Material:
The course packet includes EFL/ESL teaching related information accompanied by exercises and feedback from your tutor, an easy to follow guide entitled "How to Teach Grammar", and a personalized job guidance program to suit your needs. Our course includes no additional or hidden fees for books or course materials – all materials are printable and are included in the cost of the course. No shipping and handling fees either. Compare ITTO and other schools.
Flexible Program:
Our course is as flexible as it is in-depth. It can be completed in as short a timeframe as eight weeks. Unlike other providers, we do not charge extra for intensive/fast submission of assignments, but you have up to a full year to complete it, so you can work when it is convenient for you. In addition to interaction with your tutor as needed throughout the course, you are also provided access to a trainee forum, which allows discussion of course content and other things with your peers. You are provided with Personal Tutor Support, which provides answers to many TEFL-related questions that have been asked by former trainees, with answers from our tutors. Also available is an e-library for teachers.
Highest Quality Tutors and Training:
We do not offer no-tutor support courses. Some providers offer "no tutor support" courses at a lower fee. ITTO DOES NOT. We know how pedagogically essential it is that trainees are supported and guided through their learning-teaching process.
Only highly experienced and motivated tutors who have a degree in Teaching English as a Foreign Language teach our course. Also, our tutors continue to teach English themselves, guaranteeing that you will be working with someone who knows the ins and outs of teaching English in today's classrooms. All of the latest classroom exercises and methodologies will be at your fingertips. In addition to using only the best tutors to ensure the best training education possible, we offer an education that other organizations realize is one of the best of its kind. Our program is affiliated with one of the largest EFL language centers in our region. It is known throughout the world as a center with the highest standards and the highest quality trainees.
Ongoing Support:
When you complete our course materials, your relationship with us does not end. In fact, once you are certified, you still receive lifelong job guidance and direct access to employment contacts worldwide and to the job contacts database. You will also receive access to proven effective cover letter and C.V. templates and listings of the best employment websites for effective job searches, all in one convenient place. Feel free to contact us any time after graduation and we will be glad to provide information on any Teaching English as a Foreign Language related topic.
Don't just take our word for it, take our demo lesson!
Choosing The Right School:
We suggest you ask and/or verify the following:
Does the school have real offices?
Make sure the school has an ongoing job guidance program. At your request we will provide references from graduates.
Is the school a member of professional organizations? ITTO Online is a proud member of:
College of Teachers (UK's Educational Institute)
ACTFL (The American Council on the Teaching of Foreign Languages)
IATEFL (International Association of Teachers of English as a Foreign Language)
AMCHAM (American Chamber of Commerce)
IALLT (International Association of Language Learning Technology)
What employers have accepted their certificates? At your request we will provide contact details.
What does the school look like? Ask to see pictures of the school premises and verify them. We at ITTO operate onsite courses at our own school. Watch our testimonial videos.
Can you easily contact them by telephone and speak to a person, not a machine? You may contact us six days a week.
Get references from ex-trainees: Read what our trainees say about our program.
Review the advantages that ITTO's certification offers you, surf through our pages; get ready to start your life career as an International English teacher.