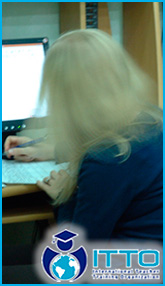 Teach English with Technology
This first and only Online TESOL Technology Course, which is brought to you by ITTO, the pioneer of this one of a kind program, is the only certification devoted to train English Teachers to use or strengthen their knowledge in integrating technology in educational settings.
As the TESOL Association adapted and created standards which are specifically aimed at teaching English and the use of technologies, ITTO's Online TESOL Technology Course introduces different kinds of tools that are user-friendly and that can be learned on a self-study basis. In this Self-Guided course of 25 hours, you will learn to employ new techniques that go beyond the use of conventional classroom items. You will try some of the tools yourself and decide how these tools can provide an added value to your lessons as well as your professional development. Review the requirements.