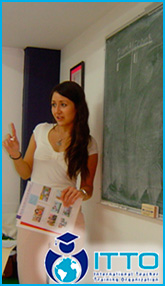 We suggest you ask and /or verify the following:
Many providers operate solely through virtual environments. You should ask yourself if they own a "real school". Please Watch a video-visit of our onsite premises.
Make sure the school has an ongoing job guidance program. ITTO provides lifelong job guidance, direct employment contacts, and additional products to buy such as the e-book "Job Search and Interview Techniques for Today's Marketplace".
Compare the hours for the price. Does the school offer at least 100 hours of training, comparable to an onsite course? ITTO provides 140 hours of course content. Compare ITTO and other schools.
Even though there are international standards to be met, certification programs are not standardized in the EFL/ESL Teaching industry and many do not meet minimum standards; therefore, quality can vary greatly. Compare here.
How long has the company been operating? We have been training teachers and students for nearly four decades.
Will you have a live personal tutor available to support you throughout the course? ITTO provides consistent support and feedback from your personal tutor. Our tutors provide highly personalized and individual feedback to your assignments.
Does the school hire certified teachers with real teaching experience? See our tutors' profiles.
What kind of support will you receive once you finish the course? Upon finishing the course, you will receive not only our lifelong job guidance and direct employment contacts worldwide, but also the option of buying our ready-made "Communicactivities" for your classroom. You will have both the skills and the resources to get started teaching abroad. Feel free to contact us any time after graduation and we will be glad to provide information on any ESL Teaching related topic.
What employers have accepted their certificates? ITTO has built strategic alliances with schools and reputable training centers around the globe. At your request we will provide contact details.
Does the course include a full grammar module? Many other providers do not include a grammar module or will charge for this separately.
Can you easily contact them by telephone and speak to a person, not a machine? You may contact us six days a week at +(52)33-3614 4886 or +(52)33-3658-5858 . Or contact us toll free from these countries:
Central Time USA: 1-866-514-7479
Canada: 1-877-442 0843
New Zealand: 0-800-441-330
United Kingdom: 0-800-404-9800
Australia: 01-800-603-827
You may contact us to learn more about us!