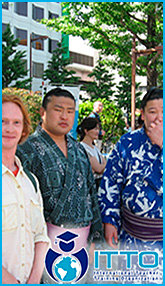 ITTO's 140 Hour Online TEFL TESOL Program awards you the training and certification needed for a professional and well-paid job to teach English worldwide. Thanks to its course content, you will obtain the skills, self-assurance, and ability to begin your teaching career and work in a professional manner anywhere in the world.
Get Certified by a World-Renowned Institution:
The International Teacher Training Organization is part of a network of teacher training and language institutes committed to offer internationally recognized courses. Through ITTO, you will attain valuable resources, which provide everything you need to conduct a successful job search! Additionally, ITTO is a proud institutional member of the following international organizations and abides by their code of practice and ethics: The College of Teachers, IATEFL, ACTFL, IALLT, and AMCHAM. Learn about them!
Job Guidance and Contacts Worldwide:
Our employment support does not end when you finish the program. Upon successful completion of the course, you will be provided lifelong job guidance and employment contacts to almost any city in the world. Check out our Teaching Jobs Abroad!
Exclusive Job Offers:
As a graduate, you will receive tons of job offers and contacts worldwide. Also, you can teach English in China, South Korea, Thailand, France or Mexico through ITTO's Job Offer Program! You can earn up to $2,500 USD and get your airplane tickets reimbursed! Find out more!
Grads' Corner:
The Graduate Alumnae Area is a virtual space focused on sharing documents, web link resources, teaching ideas, opinions, and blogs related to the amazing English learning world. At ITTO's spot for graduates, you will get tons of resources and you can meet other graduates from around the world!
Resume and Cover Letter Assistance:
Ask for your C.V. and Cover Letter template tailored for English teaching positions. Once you have written yours, we are more than happy to help you review it and give you feedback. Discover where our graduates are teaching!
Free e-Books:
1. In the "Job Search and Interview Techniques for Today's Marketplace" free e-book, you will: find out what schools are looking for, attain job search techniques, know the steps to respond to a job advertisement and request an interview, know how to write a successful cover letter and C.V, have the interview Do's and Don'ts, and have tips for applying for temporary employment in a foreign country and much more!
2. In the "Destinations e-Guide", you will learn about the most popular destinations you can teach at through ITTO! In this guide, you can compare country facts, working expectations, and salaries.
Special Discounts and Offers:
Not only will you receive job offers right on your inbox, but you will get extraordinary discounts and exceptional offers just for you! Only you could save up to 30% on Specialty Certificate Courses, teaching products, e-books, plus access to the most innovative courses.
Informative Newsletters:
In these newsletters, you will be referred to great websites in addition to resources for your new career, get useful articles, and the best available job offers.
Social Networks:
Stay in touch for the latest job offers, free lesson plans, tips, ideas, and resources, as well as wonderful articles to enhance your teaching career! Visit ITTO's: Facebook, Twitter, Youtube, Blogger and Google+.
What are you waiting for?! Become an ITTO Graduate and get the best Job Offers!