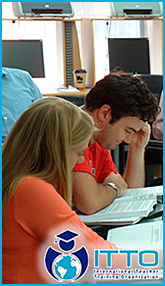 After having a TEFL, TESOL, or TESL Certificate of at least 100 hours (from ITTO or any other reputable TEFL provider), you can further your studies by taking our Teaching Business English Course: Tutor-Guided (with tutor support). The benefits of taking the Tutor-Guided Online Teaching Business English Certificate should be obvious. You have someone to guide you through the course, answer your questions, and give sage advice. This can be of importance if you come to something you do not exactly understand or you are having trouble answering certain questions. Several parts of the Online TBE course are advanced enough that you might need some help or guidance, not to mention encouragement. With Tutor Support you have help at your fingertips via the Internet and email.
In this Specialty Certificate Program of 50 hours, you will learn in 8 units the following skills in a systematic and interactive manner:
1. Gather, interpret, and use information to fulfill your students' work-related needs.
2. Customize courses by selecting and designing authentic materials in the field of business.
3. Find the most appropriate ways to assess students.
4. Make effective use of technology to support your courses.
5. Be able to work with groups as well as in one-on-one situations.
6. Find ways to keep yourself actualized in your teaching career.