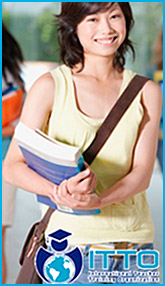 Online TEFL Certificate
ITTO's Internationally Recognized Online Teaching English as a Foreign Language Certificate Programs give you the training required by schools around the world in order to get a professional and well-paid job.
Thanks to the masterful course content, all graduates will receive the necessary skills, confidence, and ability to embark on their teaching careers and work in a professional manner. This teacher training program involves learning about the subject matter, teaching methodology, managing classes, grammar, designing activities, observing videos for every learning style and planning lessons. ITTO's certification prepares you interactively to develop skills in the theoretical aspects of teaching. See the 140 hour course content!