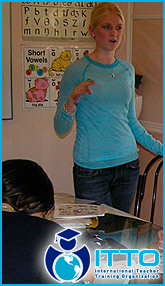 ITTO provides you with all the support and resources you need to get hired. Our Advanced Program is your passport to obtaining a job around the world.
This promises to be a cultural exchange with many benefits. New discoveries abound for the international English teacher around every corner, in every facet of life. The teachers may have the opportunity to gain a fresh perspective, make loads of new friends, learn a different language, explore a new environment and rejuvenate a career path. The potential for growth is endless, for instance; one is able to learn firsthand the all-important concept of internationalism. The demand for English teachers worldwide is strong as many industries are popping up in every area of every country to meet with the ever important English speaking markets in our ever widening global economy.
It is recommended that before you start the course, you consider the areas of the world where you would like to teach. That way we can assist in supplying information on working conditions, salary expectations in locations around the world, and in giving you contact information for schools worldwide that hire trained instructors exclusively. You may let us know your desired location on the day you apply!
Also, ITTO's employment support does not end when you finish the program. Upon successful completion of your course, you will receive employment contacts chosen specifically for you and the e-book "Job Search and Interview Techniques for Today's TEFL Marketplace." These valuable resources provide everything you need to conduct a successful job search. You will receive lifelong job guidance throughout your teaching career.
Having a certification enables the teacher to gain experience in English teaching even before stepping into the classroom. Reputable courses outline all aspects of the language: reading, writing, speaking and listening. The English teacher leaves the course feeling more than competent to deal with the ever changing needs of people who study the language. Career prospects are wide for the certificate holder. Jobs can be found in private business schools, larger or small language centers, international schools (set up for expatriates in the area), private one on one tutoring and some public schools. The advantage of holding an internationally recognized certificate for future opportunities is being able to apply to different countries when a contract with one country is finished. Certificates from accredited institutions are recognized the world over and can transfer over for use in any context; in any country.
Being certified offers the successful candidate great job flexibility to be able to work any hours of choice and to be independent of the corporate drone culture. EFL teaching can be a great breath of fresh air for the office worker who has very little human interaction. The teacher writes his or her own ticket in terms of levels of success. One may wish to work in a group setting, formal classroom, or may vie to conduct private teaching lessons. He or she is independent in conducting his or her classes, but with the best of both worlds, is able to work as a team with fellow teachers.
Moreover, in ITTO's e-book "Job Search and Interview Techniques for Today's Marketplace" you will learn:
What great schools are looking for
Job search techniques
Steps to respond to a job advertisement and request an interview
Sample responses to job postings
How to write a successful cover letter
A model structure for a resume
Interview Do's and Don'ts
Common interview questions
Tips for applying for temporary employment in a foreign country
Regional guides: general working conditions and market by region
What it´s like to be a teacher: duties, workload, salary, benefits, career advancement, housing, medical insurance
Internet links for everything you need to start teaching and living in a foreign country: jobs, travel, grammar, games, lesson plans, book distributors, music, online dictionaries, professional EFL organizations, vocabulary and more!
Employers from around the world may contact us via our toll free numbers for verification of authenticity of your certificate.
You can contact us any time after graduation and we will be glad to provide information on any related topic.