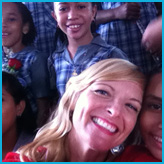 English Courses for Children Build Lifelong Skills
Teaching English to Young Learners (TEYL) is a way to introduce English as a foreign language to young students. While children may not have an understanding of why it is important to learn a second language, there are many reasons that answer the question, "Why teach English to young learners?" For instance, creating a fun and positive learning environment can equip kids with a strong foundation for success in more advanced courses later in their academic careers.
Taking the Fear Out of Learning
One of the most important aspects of teaching English to young learners is creating an enjoyable and creative learning atmosphere. To most children, learning English is just another activity in their average day. Though it will take time for them to understand the future impact of what they are learning, the basic skills that these kids learn will prepare them for more advanced language courses.
Here are a few ways to add excitement to lesson plans:
Fun activities: Incorporating new words into songs and games helps children relax and enjoy the learning process. Using music also improves retention of new material.
Add variety: Young learners have very short attention spans, so having a diverse repertoire of activities to draw from will keep students engaged and motivated.
Learning the basics: Much of early curriculum is centered on alphabet, numbers and colors. Focusing activities on these topics allows for plenty of creativity in your lesson plans.
Creating a Consistent Environment
Why teach English to young learners when adults are better behaved?
There are many rewards involved in working with children, including the enforcement of good habits. A disciplined learning style should be enforced early on and TEYL courses present a wonderful opportunity to learn how to establish good academic behaviors.
Commands: Children can learn behavioral discipline and a new language by using English commands.
Questions: Requiring children to use their new language knowledge to ask questions reinforces language skills and good behavior to carry on in their education.
Track Progress: Students need positive reinforcement to help them see the fruits of their hard work and stay motivated. Incorporating a system to track individual and class progress will contribute to a productive environment.
Why Teach English to Young Learners Instead of Adults?
When it comes to teaching opportunities, many may question why to teach children rather than more mature learners. While topics covered by adults may be more relevant to instructors, children are still learning their native language and have the ability to rapidly progress through curriculum. Teaching young learners is a rewarding experience and provides invaluable skills to these young students as they progress through their education and on to their future careers.
TEYL courses present an opportunity to make a significant impact in the education of children across the globe. With a little creativity, correct TEYL training, and patience, English teachers can pass down timeless knowledge to youngsters to carry through their academic and professional endeavors later on in their lives.
*Feel free to share our articles, we only ask for credit! Be sure to mention International Teacher Training Organization as the author and a link back to our website: www.tefl-online.com.
Browse through Related Articles!