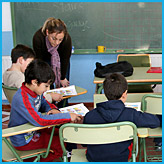 Unit 1: Knowing your Students
1.1 The Challenge of Teaching English to Young Learners.
1.2 Learning versus Acquisition.
1.3 Teaching Children versus Teaching Adults.
1.4 Before The Course Begins.
Unit 1 will introduce the main differences between teaching adults and young learners. In addition, language learning theories will be discussed and reviewed.
Unit 2: Knowing the Learning Context
2.1 The learning context.
2.2 Developmental stages and multiple intelligences.
In Unit 2, you will be taught about your specific learning context along with the important role that parents play in Teaching English to Young Learners. Beyond this, developmental learning stages are examined as well as the Multiple Intelligences Theory and how it relates to successful learning in TEYL.
Unit 3: Teaching Resources
3.1 Textbooks and Activities.
3.2 Creating Your Own Materials.
3.3 Adapting Your Own Materials.
3.4 Using Other Resources.
Unit 3 is all about teaching resources in TEYL. You will gain knowledge of how textbooks can be effectively used and adapted for TEYL, as well as how you can create useful materials of your own.
Unit 4: Lesson Planning, Presenting and Practicing a Language
4.1 Lesson Planning Basics.
4.2 What Every Lesson Plan Should Have.
4.3. Lesson Plan Do's and Don'ts.
4.4 Lesson Plan Example.
In Unit 4, the critical aspects of lesson planning, specifically for TEYL, will be discussed and illustrated. In addition, you will discover important key tips to follow when teaching young learners along with common pitfalls to avoid.
Unit 5: Teaching the Skills
5.1 Listening and Speaking.
5.2 Reading and Writing.
5.3 Vocabulary and Grammar.
Unit 5 will prepare you to effectively use different teaching skills on your TEYL classroom. This is where you will discover a wide variety of tried and tested example activities and effective ideas for listening, speaking, reading, writing, vocabulary, and grammar.
Unit 6: Classroom Management
6.1 Classroom Dynamics.
6.2 Useful Tips for the Classroom.
6.3 Socio-Cultural Factors.
6.4 Essential Classroom English.
Unit 6 will present one of the most important areas for success in TEYL: Classroom Management. Here you will gain knowledge of various dynamics and useful tips for successfully managing your young TEYL classes to get you started with confidence. Crucial Socio-cultural factors that require consideration are also explored.
Unit 7: Assessment
7.1 Assessment Guidelines.
7.2 Assessment Techniques.
In Unit 7, you will discover useful assessment guidelines and techniques targeted for young learners. These include tracking progress, reducing anxiety, and setting your TEYL class up for success.