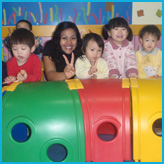 The Importance of Getting Certified to Teach English
If you long for the opportunity to teach abroad, getting certified to teach English is a great way to immerse yourself into local cultures and impact students of all ages. A Teaching English to Young Learners (TEYL) course certifies teachers to lead instruction in English as a foreign language to young students around the world.
Though many instructors may wonder, "Why take a TEYL course, when I already speak the language and have a TEFL course?" it is very important to know how to cater classes to different age-groups to have the most effective teaching experience and presentation of classroom material.
Not All Students are Created Equal
When it comes to teaching children, there is no singular formula to guide instructors through effectively teaching their classes. Each age group presents their own individual challenges; taking a TEYL course will help prepare instructors to work successfully with children or young kids.
Motivation: Knowing what motivates different groups of students helps you build a strategy of instruction. Young children's greatest incentive is having fun while adults have immediate need for English in their careers and daily communication.
Engaging content: Simply understanding what motivates students to engage in the course material and enjoy their learning experience provides teachers a significant advantage when planning a successful classroom curriculum.
Effective Strategies for Young Learners
A leading answer to the question, "Why take a TEYL course?" is that children need a variety of activities to keep them engaged in the course material. Learning how to use games, songs and movement can improve retention and create a fun learning environment.
Reinforce good behavior: Playing games also creates the opportunity for children to learn commands, ask questions in a new language and interact with other peers while encouraging discipline that can be carried through their overall education.
Covering basics: Using music to learn colors, numbers and alphabet letters is a powerful learning technique. TEYL courses will equip new instructors with a wide variety of tools to use in the classroom and build good rapport with students.
Why Take a TEYL Course When You Have Teaching Experience?
Many teachers may wonder why they need to get certified on teaching young learners if they have worked as teachers previously. There are significant differences in teaching specific age groups, especially where learning a new language is involved.
Development: Around teenage years, a student's natural ability to learn a second language diminishes and continues to do so with increasing age.
Achieving fluency: Older learners must be much more deliberate about their efforts to master a language in order to achieve any level of proficiency or fluency. Training equips instructors with the appropriate skills to strategically work with different levels of ability.
If you love teaching and want an experience abroad, taking a TEYL certification course can open up countless new opportunities. Completing a training course will ensure that prospective instructors have all the necessary skills to guide students through English as a foreign language and create a fun and positive learning environment.
*Feel free to share our articles, we only ask for credit! Be sure to mention International Teacher Training Organization as the author and a link back to our website: www.tefl-online.com.