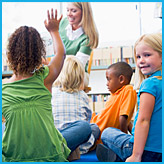 It is crucial to know the differences of how adults and children learn.
If you are planning to teach not only adults, but children as well, we highly recommend including the 25-Hour Teaching English to Young Learners (TEYL) course to your English as a Foreign Language (EFL) Teacher Training!
Studying both courses will make you an avid teacher and you will be familiar with the following by the time your graduate:
Identify the different in classroom management styles for each age group.
Set Achievements and Expectations for adults and young learners.
Effectively teach grammar based on students' level.
Apply correct classroom activities taking into account attention spans.
Successfully rate progress and be aware of your teaching skills.
Know the core motivation of young and more mature scholars.
Create Engaging content for any level classroom.
Keep a Consistent Environment and encourage a positive atmosphere.
Be a role model for children and create a support system for adults
Develop fun activities for children as well as relevant lessons for everyday life.
While topics covered by adults may be more relevant to instructors, children are still learning their native language and have the ability to rapidly progress through curriculum. Teaching young learners is a rewarding experience and provides invaluable skills to these young students as they progress through their education and on to their future careers.
A TEYL course presents an opportunity to make a significant impact in the education of children across the globe. With a little creativity, correct TEYL training, and patience, English teachers can pass down timeless knowledge to youngsters to carry through their academic and professional endeavors later on in their lives.
*Feel free to share our articles, we only ask for credit! Be sure to mention International Teacher Training Organization as the author and a link back to our website: www.tefl-online.com.
Browse through Related Articles!