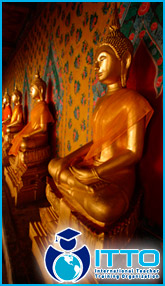 1. Do I get Visa assistance?
Yes, you will be required to have a work visa for teaching English in Thailand. You will have assistance in obtaining a Non-B visa. Visa extension, work permit, and teacher's license.
2. Do I have to be an English or Education major to qualify for the Teaching Program?
No, although you need an accredited Bachelor's degree, MA, or PhD.
3. How many class hours are we supposed to teach in Thailand?
The standard work week is Monday – Friday and between 20-24 hours per week.
4. Do only native English speakers qualify?
Yes, only Native English speakers qualify.
5. What are the usual contracts like?
The minimum contract-length is 5 months.
6. How are the classes like?
Class sizes range from 30-45 students per class with air conditioned classrooms.
7. Do I need to speak Thai in order to teach English in Thailand?
No, you will be teaching Conversational English and you must only speak in English.
8. Is it safe in Thailand for visitors?
Yes, it is safe in Thailand! It is one of the most popular tourist places in the world.
9. How is the weather in Thailand?
The climate is tropical due to its close proximity to the equator; the rainy season is usually from November to January and is quite extreme as flash floods can be common. Humidity is high. In summer months from February to June temperatures reach approximately 95 °F and in the cooler winter months, in some regions temperatures, usually stay at a more comfortable 85 F. In the northern part of Thailand, temperatures can go down as low as 56 F at night, to highs of 95 F during the day.
10. What is the Thai dress code?
You should dress as conservative as possible.
11. What do the professional teaching responsibilities include?
These include: – Planning, preparing and delivering quality lessons – Promoting the general progress and well- being of all students – Undertaking regular assessments of students in line with school policies – Being a positive role model to students – The post is Full Time for the right applicant, who needs to be professional, able to work as part of a team, like teaching and have a sense of proportion and humor.
12. How much luggage is allowed on an international flight?
It is up to the airline but most are one carry and one check. The other thing to watch for is weight allowance per bag. Also, in some airlines it is cheaper to have a second bag than to go over weight on the first and if you travel with kids, strollers do not count as luggage if you check them at the gate but car seats do. It is all up to the airline.
13. What are the emergency phone numbers for Thailand?
Directory Assistance: 1133, Police: 191, Fire & Emergency 191
14. What should I take with me to Thailand?
A Notebook, Mobile Phone, Treatment chronicle medicine. A Big Smile.
15. Will I need to get any vaccinations before going to Thailand? 
No you do not need any.
16. How will I get from the airport to my accommodations?
You will be picked up from the Airport.
Got questions? Contact us!