140 Hour Online Course Requirements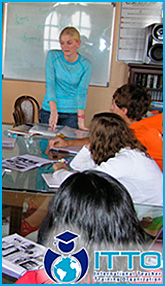 To have knowledge in word processing, web navigation, sending e-mails and attachments.
Be aged 18 or over. We know of other providers who accept applicants as young as sixteen. However, it is obvious that the possibility of TEFL Employment for those graduates is extremely unlikely.
Have an awareness of language and a competence in English, both written and spoken, that enables the trainee to undertake the course and prepare for teaching a range of levels.
Have the potential to develop the necessary skills to become an effective teacher and to successfully complete the written assignments.
Have a positive attitude towards team work and experiental learning activities. This includes acknowledging the relevance of these in Teaching English as a Foreign Language and having a willingness to participate in all course dynamics.
We have successfully trained native and non-native English speakers with different backgrounds throughout the years, making TEFL training available to as many people as possible.
Teaching Practices
To attend ITTO's Teaching Practices, you must have finished your 100-140 Hour TEFL TESOL Course.
For the Guaranteed Job Placement in Mexico, applicants must meet the following requirements:
Have a TEFL, TESOL, or TESL Certificate of at least 120 hours issued by ITTO or another reputable institution. Subject to the review of ITTO.
Be a native English speaker.
Be 21 years of age or older, at time of start of assignment.
Have a 4 year college or university degree.
Have a valid passport. Although only a tourist permit is required to enter Mexico. Traveling abroad on a passport is always better. A passport is also necessary for processing your work permit.
Important Note: ITTO does not help in ANY visa process. It is the enrollee's responsibility to research the visa process and issue own visa.
Applicants must be myriad-minded, flexible, independent, and in good health.
Must enjoy working with children, teens or adults, at either schools, language centers or in-company.
Be available to work mornings and/or evenings.
Submit updated cover letter and resume (C.V). Upon request, we may provide formats for you to adapt your own.
Be able to commit to a job for at least 6 months.
Have 5 different options anywhere in Mexico. These must be different States within the Mexican Republic.