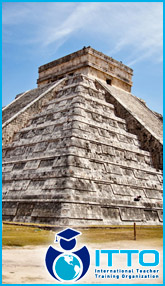 1. Do I have to be an English or Education major to qualify for the Teaching Program?
No. You don't. All majors are welcomed!
2. How many class hours are we supposed to teach in Mexico?
The standard work week is between 40 hours per week.
3. Do I have to be able to speak Spanish in order to teach English in Mexico?
No, you will be teaching Conversational English and most of the students already know English. If you would like to take a few lessons of Spanish, we can refer you to our partner Spanish School.
4. What should I take with me to Mexico?
Clothes are somewhat expensive in Mexico so you might want to take some clothes with you. You should try to take a laptop computer, a magic jack and a digital camera for your personal use.
5. Will I need to get any vaccinations before going to Mexico?
There are no mandatory vaccinations to go to Mexico.
6. How much luggage is allowed on an international flight?
Each passenger is entitled to 50 pounds luggage and one carry-on; this may include a hand bag or a notebook computer, and a backpack or a small suitcase.
7. How will I get from the airport to my accommodations?
A member from the school staff will help you get from the airport to your apartment or homestay.
8. What is the school's dress code in Mexico?
Schools will expect you to dress business casual
9. What are the emergency phone numbers for Mexico?
Emergency number in Mexico: 066
10. What is the banking information for Mexico?
The local currency is the Mexican Peso, the currency now ranges from $18 to $19 pesos to $1 USD. Major credit cards and cash are accepted in Mexico. Some of the largest banks in Mexico are: BBVA Bancomer, Banamex, HSBC.
11. Is it possible to send money home?
Yes. Money can be easily exchanged and transferred to bank accounts around the world. Western Union and Money Gram services are also available.
Got questions? Contact us!