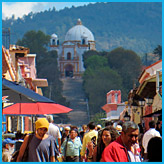 Do you need a break from the books? If university life has got you burned out and you are eager to see the world, taking a year off during your studies or after graduation to travel and do a little soul searching can be a wise investment in your future. Harvard College Admissions has been encouraging their students to take a "year off" for over thirty years, recognizing that those who take a year away from their studies to work or travel return refreshed, focused and with skills they could never get in the classroom. If you are considering taking time off to study or work overseas, the International Teacher Training Organization has the perfect opportunity for you.
Why Teach English as a Foreign Language?:
It's the "loan-free" way to travel abroad.
International work experience looks great on your resume or grad school application.
There is no better way to truly experience another culture.
Your educational and career goals will become clearer.
Second language skills are a major asset to your future. It's the adventure you've been dreaming of.
Taking a year off during college or after graduation to work overseas will open doors for you. As the world becomes increasingly interconnected, graduate schools and employers are looking for those with international experience and foreign language skills. Working overseas will distinguish you from your classmates. You will be culturally savvy, skilled in working with people from different backgrounds, and full of unique ideas that come from a global perspective.
Now is your chance to do something that will change your life forever. Consider taking our course this summer or next semester. In just one month, you will have acquired an invaluable skill that will enable you to live and work overseas for years to come. While your friends are back home studying, you will spend the rest of the year living out your dream. What will you do this summer? Get another part-time job or learn a skill that will open up the whole world to you? Contact us today for additional information. We are eager to answer your questions.
*Feel free to share our articles, we only ask for credit! Be sure to mention International Teacher Training Organization as the author and a link back to our website: www.tefl-online.com.