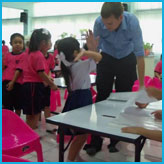 If you love teaching or have been searching for your niche, you may have wondered at some point, "Why teach English as a foreign language?" If so, you should know that there are many different benefits and reasons for teaching English as a foreign language (TEFL).
Benefits:
Individuals usually choose a certain career path because of the particular benefits it offers, such as a regular paycheck, healthcare and a retirement fund, just to name a few. There are a lot of different advantages to choosing a career in teaching English as a foreign language. As an EFL Teacher, you can:
See new and different parts of the world
Meet new people
Make a difference in students' lives
Build your resume or CV
Experience the joys of teaching
Get a regular paycheck
With EFL, you could be teaching students of all ages, from little children to the elderly. It offers all kinds of new experiences just waiting for you. In addition to all of these benefits, you also get the joy of general life experience all over the world.
Reasons:
Why teach EFL?
Although the payback might seem like reason enough for most people to choose a career in Teaching EFL, there are a variety of other motivations for people to opt to complete TEFL courses. Some of these reasons might be:
Finding joy in helping other people
A wish to impart knowledge to others
Prepare for future teaching opportunities
Coursework and certification can be completed quickly.
Intentions as to why teach English as a foreign language may be very personal, but these are a few that people usually consider.
One important aspect to note is that getting trained for TEFL is a lot simpler than many people think. Although there may be a certain amount of in-class training and practice teaching, most courses have some sort of online availability. This means you can often get certified by completing a course on your own timeline. It is convenient, and most courses can be completed between one and two years. For people who might be considering a career switch, this is particularly suitable.
Start a New Career:
Why teach English as a foreign language? Only you can decide what sort of benefits and reasons make a career in TEFL a good option. If you are the type of person looking for a job that helps people while allowing you to travel and see the world, then TEFL might just be for you. It is easy to switch over and start your training right now with the right online TEFL course. Start searching for the best course to get the training you need for an exciting and rewarding career today.
*Feel free to share our articles, we only ask for credit! Be sure to mention International Teacher Training Organization as the author and a link back to our website: www.tefl-online.com.