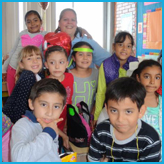 A TEFL or teaching English as foreign language position is a great opportunity for graduates who want to support themselves abroad. If you have experience in teaching, tutoring or living abroad, this can be a great option for you while you figure out your next career move. Before you apply to any position, you will have to do a bit of research. This type of job requires a visa, passport, interviews and a curriculum vita. The process may take a few weeks before you receive a contract or job offer; which is usual when applying for jobs internationally. There are many organizations that can help you get this type of job, but here are a few tips to get you started.
First, pick a destination. Do not just choose a country because of its tourism or beaches. Look into the educational systems and truly understand what it might be like to work and live there. You will be immersed in an exciting new culture, but you do not want to be completely blindsided by any factors.
When researching teaching English as a foreign language jobs in a given country look for:
Living Costs
Local Customs or Daily Life
Mandatory Teaching Experience
Required Local Language Fluency
Average Salary
Usual teaching hours per week
Housing assistance
Many inexperienced travelers forget to take into account the cost of living versus their expected salary. Be sure you can afford to live comfortably and be realistic about comforts you may have to live without.
Where should you look for a TEFL job?
Although you can find job postings in a variety of areas, make sure the source you are looking at is reliable. Consider Internet job centers where you can upload your resume online for potential employers to look at. Care to include a professional photo and tailor your posted skills and qualifications to the job you want. Research specific schools and contact the institutions directly about open positions. Additionally, many reputable recruiters and similar organizations already have contacts abroad and can help you find a suitable place of work.
Additional Tips for Finding a Teaching Job:
Before agreeing or committing to any career opportunity, learn everything you need to know about visas. Other countries have different or incompatible visa systems and it may take a substantial amount of time to get approved. Know when you should be receiving job offers and when you will need to complete the visa paper work. Plan to do everything far in advance just incase there are unforeseen complications that cause delays. If you cannot find what you need online, contact the corresponding embassy.
Getting hired for a TEFL job requires exploring the field, being organized and staying on top of deadlines.
Be prepared to get to work and have fun!
*Feel free to share our articles, we only ask for credit! Be sure to mention International Teacher Training Organization as the author and a link back to our website: www.tefl-online.com.