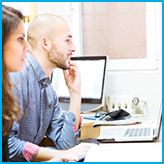 Using TED Talks as an EFL Teaching Tool
In recent years, TED talks have grown into a global internet powerhouse of idea and information sharing. For teaching English as a foreign language (EFL), TED Talks videos of these conferences provide ample opportunities to develop and refine students' English speaking and comprehension abilities in an engaging and informative way. With thousands of TED talk videos available online, given from speakers such as Al Gore, Bill Gates and Ken Robinson, and covering a wide range of topics, students and teachers alike will learn something new.
Teaching English TED Talks for EFL Teachers
As an EFL teacher, you should prepare your students before watching TED Talks to help them get the most out of the speech.
Here are some ways to teach English with TED talks:
Ask preliminary questions: Before watching, expose basic questions to your students about what they think the TED talk conference is about, based on the title, as well as presenting additional keywords related to the subject they are about to explore.
Discuss after the first viewing: After the first time through, see how close your students' predictions from the pre-viewing questions were to the actual ideas in the video. Identify if they heard any of the presented keywords.
Using TED Talks as a Student
EFL students learn more effectively when they can listen to and engage with a variety of speakers and topics not found in textbooks. Students can spend time on their own, outside of the classroom, watching enriching videos that encourage them to hone their language skills.
Here are some of the ways students can use TED talks to improve their English comprehension:
Listening: Students should "actively" listen to the speakers in the videos. Tell your students to try to listen ahead, or predict what the speaker will say next given what has been heard already. Have them "micro-listen" to particularly difficult sentences by rewinding the moment until they can understand fully.
Pronunciation: Students can use transcripts while viewing to discover discrepancies between written and spoken English. By cross referencing the two, students will begin to learn pronunciation patterns and speech nuances. Providing the script can be specifically useful for beginner-level students.
Vocabulary: Since many TED speakers talk about specialized subjects, there will be more opportunity to expand vocabulary. When your students come across unfamiliar words, have them look up the word in the transcript and define it.
Furthering the Discussion
Once your students become more comfortable with TED talks for learning English, there are a number of language development activities you can try with them, such as:
Mock interviews with the speaker.
Class debates on the ideas discussed.
Writing a review of the video.
TED Talks provide EFL students with an interesting and thought-provoking way to learn English. Discover the ways you can enrich your EFL classroom with the spread of ideas, taking benefit from trending topics, and most importantly, teaching English through TED talk videos.
DISCLAIMER:
TED© and TED Talks© are registered trademarks of TED Conferences, LLC. This course and/or certificate is not affiliated, endorsed or approved by TED Conferences, LLC. All trademarks are the property of their respective owners.
Sign up for ITTO's Self-Guided TED Talks Course!
*Feel free to share our articles, we only ask for credit! Be sure to mention International Teacher Training Organization as the author and a link back to our website: www.tefl-online.com.
Browse through Related Articles!