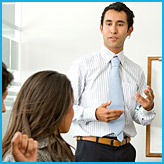 The field of teaching English has become quite competitive over the years so employers also have higher standards to fulfill. Without the proper TEFL Teaching English as a Foreign Language certification, a resume will not stand out at all among so many others. In order to gain recognition and a higher salary, specialty certificates, such as, Teaching Business English (TBE) are required to make it happen.
Teaching business English is a great way to build a promising career and start eliminating any financial worries. The importance of business English has soared with the vast growth of global markets. Globalization as well as the evolution of the economy requires more business English teachers to meet the demand.
Value of Certification
With good reason, getting certified to teach business English will be valuable for your future. Almost all employers have higher standards than recent years so it can be quite difficult to find decent work or pay without a TEFL certificate. Not only do employers have higher expectations but more students do as well.
Having knowledge about internet terminology, proper ways to research, different contexts of business, and plenty of writing practice will definitely upgrade your ability to teach Business English. Another area of importance is learning about prices and currencies which are a major part of business. Without proper courses and certification, students will not have confidence in you as their English teacher.
There are a plethora of different industries that require at least some basic background of business English. This is an advantage to those who are looking to get certified and start teaching business English. Unlike many other professions, there will be heightened chance of financial success and more choices of employment to choose from.
Where to Find Quality Business English Courses
There are a few different courses available for teaching business English, great and very complete programs could be found online. Taking online courses, in some cases is more beneficial and extremely convenient because you can arrange courses to accommodate your personal schedule. This will also help to save from not having to commute and allow more time for study, have another job and/or deal with personal issues.
Before enrolling with the first online program you find, consider the structure and level of support offered. There should be a good amount of time dedicated to training, discussion, formal assessment, personal tutoring service, and ample materials or resources. Finding the right program can be difficult but not impossible.
The Internationally Recognized Online Teaching Business English Certificate provided by the International Teacher Training Organization – ITTO – is a great choice because the online course covers all the pertinent areas and gets you certified. This program will equip you with vital skills such as how to gather and apply information, customize courses, assess students properly, and incorporate technology into learning. In addition, there is no time-consuming commute or set class schedules to deal with.
The online TBE course offered by ITTO is fairly unique when compared to others because it promotes independent learning methods and downloadable material that will nurture the skills needed to get certified and start teaching business English. Obtain your Certification; there will always be significant more openings to job offers and an increase in salary.
*Feel free to share our articles, we only ask for credit! Be sure to mention International Teacher Training Organization as the author and a link back to our website: www.tefl-online.com.
Browse through Related Articles!