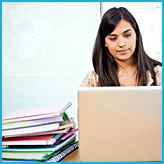 Making plans for your future in Teaching English as a Foreign Language presents some important decisions on your part. You need to consider the time, effort and expense you are willing to contribute to your future as a certified teacher, as well as the different certification methods.
Our Internationally Recognized Online 140 Hour Teacher Training version of our onsite course is here to help you with those decisions and make your certification as easy as possible. Due to demand, we are now offering our formerly only onsite intensive immersion course online! We understand our students' constraints-time, money, responsibilities, among others-and have made a course that can fit anyone's schedule, without risking the integrity of our onsite courses. Our online teacher-training course is a practical and economical alternative to our onsite course. Everything is included in one simple price-there aren't any hidden fees or extra books or computer programs to purchase.
Our new innovative online course will afford you all of the basic theoretical and practical knowledge you will need to be an effective and confident English teacher. If you are familiar with our onsite program, don't worry. Our online educational technology experts have made special concessions to assure that our online course has been adapted in a manner meant to teach through one on one online training, as opposed to group training with instructors.
You will benefit from this technologically advanced course just as you would with our onsite classes: communicating with our expert instructors one-on-one via the course's infrastructure, having up to date resources at your fingertips, a forum to discuss topics with your peers, the most advanced and globally accepted reading to accompany our lessons and a certification by a world class school with a reputable name. Our online course is supplemented by a video demonstration of real classes to help get the feeling of how to put into practice all the newly acquired teaching skills. Intended for you to model effective teachers in an EFL setting and experience all of the latest techniques and methodologies in action, our students witness our teachers correcting, encouraging and monitoring students learning English.
The online tutors will serve as your facilitators in the ongoing learning process. They all have degrees in Teaching of English as a Foreign Language, and maintain teaching positions as English language teachers, guaranteeing that you obtain expert advice from instructors who are familiar with today's classroom environment. The most current classroom exercises and methodologies will be available to you.
Our students' results speak for themselves. We have placed graduates in virtually every corner of the world and will assist you by giving you access to our database of worldwide contacts – schools and employers that respect our reputation, including that of our online program. Not only can we assist you in finding the perfect job for you. but also we offer our guaranteed paid job placement program as a lifetime service to graduates who have completed the onsite real teaching practices.
Another great benefit of our onlinecourse is the optional real life teaching practices we hold over a 5-day period here in Guadalajara, Mexico. Due to our affiliation with an English Teaching School (EFL), we are able to offer our online certificate holders the opportunity to practice teach with actual English language students immersed in a real academic curriculum. This opportunity if often unparalleled as other schools use volunteers to act as students or offer no real practice at all. This option is well worth the time and expense and is highly recommended by our graduates. Check out our home page or contact us (info@tefl-online.com) if you would like to speak with our staff in person or contact one of our graduates to hear about our school from a student's point of view.
Our online certificate program has been created for people who lack the time needed to leave home for a month and commit to our full time onsite course, but who are still interested in becoming a certified instructor. Because we allow our students to work at their own pace, asking only that the entire course be completed in 12 months, this course is very flexible and can fit anyone's schedule. If you have the desire to become a certified English teacher and travel the world, contact us today.
Whether you decide to take our online or onsite course, it is critical that the course you select is a well-known and well-respected school. Employers consider which school issued their prospective employees' teacher certification. It is important for you to choose a teacher training course with a long-standing solid reputation. ITTO's onsite program has long been considered one of the highest quality courses available in the world. However, the online market is the newest edition to training. If you choose to take an online version of teacher training, you will be safe in selecting a school with such a defined reputation for excellence as ITTO. Employers around the globe know ITTO's standards and that we only employ the highest quality instructors. Our reputation will follow our graduates, whether they attend the onsite or online course.
Contact us today to receive a free, no obligation demonstration lesson to see for yourself what our online program is about.
*Feel free to share our articles, we only ask for credit! Be sure to mention International Teacher Training Organization as the author and a link back to our website: www.tefl-online.com.
Browse through Related Articles!