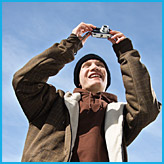 Are you considering taking a year off from your studies? Are you eager to see the world? Perhaps university life has got you burned out or maybe you still haven't decided what to study. Taking a gap year off from school to travel and do a little soul searching isn't just a break from the books. It can be a wise investment in your future. If you are considering spending your gap year studying or working abroad, the International Teacher Training Organization has the opportunity of a lifetime.
Why Teach English as a Foreign Language?:
It's the most affordable way to travel abroad. International work experience looks great on your resume. There is no better way to truly experience another culture. Your educational and career goals will become clearer. You will learn things you never could in a classroom. Second language skills are a major asset to your future. It is the adventure you've been waiting for.
In only four weeks ITTO will give you the tools you need to become a certified teacher of English as a foreign language. You can choose to study the 5 Day Teaching Practices Program in sunny Guadalajara, Mexico. Our program adheres to the highest academic standards using a proven hands-on method of training. We will prepare you to spend your gap year successfully living and working almost anywhere in the world.
Our Program Provides:
Internationally recognized TEFL Certification Monitored teaching practice with real ESL (English as a Second Language) students Highly skilled trainers with years of experience 100% GUARANTEED paid job placement in Mexico! Direct employment contacts worldwide Lifelong job guidance program: we will continue to offer our services should you choose to take a second or third job placement later on.
Housing arrangements
When you teach English abroad, not only are you working and therefore paying your own way, but also because your job is important to the community, you have a unique opportunity to become integrated into the culture like no traditional student ever could. You won't just study and read about the culture, you will live it through experiencing the food, art, music, politics and day-to-day life of the place you choose to teach in. You will meet fascinating people, gain second language skills and develop valuable teaching tools that you can use for the rest of your life. When you return to school, you will see the world through new eyes.
Taking a gap year away from university to work and travel abroad is a wise investment in yourself and your future. Great universities and employers know that working abroad provides leadership skills in a world that is increasingly globally interconnected. Today's businesses are seeking those who are independent, culturally savvy and well rounded. Many of your classmates will take a gap year to study or backpack abroad, but living and working in a foreign country proves that you are confident enough to take substantial risks, that you are serious about your future and open to challenging new experiences. Employers will recognize that you are skilled in working with people from different backgrounds, familiar with another language and full of unique ideas that come from a global perspective.
When you decide to take the four-week certification program at ITTO, you have nothing to lose and everything to gain. In just one month, you will have acquired an invaluable skill that will enable you to live and work around the world for years to come. You could spend the rest of your gap year living out your dream. What will you do this summer? Get another part-time job or learn a skill that will open up the whole world to you? Contact us today for additional information. We are eager to answer your questions.
*Feel free to share our articles, we only ask for credit! Be sure to mention International Teacher Training Organization as the author and a link back to our website: www.tefl-online.com.