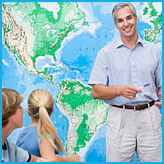 A good English as a Foreign Language teacher is an important factor when students are learning English as a second language or as a foreign language. As a general consensus, students say that great teachers are those that remember what it was like to be a student and treat students as equals.
When you teach English as a foreign language, you must strike up a relationship with each and every student ensuring that you encourage the quieter ones as well as the more confident ones while also ensuring you maintain a good balance between entertainment and discipline. It is also well documented that to be a great teacher, you have to be patient and appreciate that everybody will make mistakes. It sounds challenging doesn't it? Yet, being a teacher is one of the most rewarding jobs available, especially when you take into account that because you teach English as a foreign language, you will be helping your students to progress and communicate abroad and there is nothing more rewarding than helping others.
Don't worry, we give you all the training you could ask for, we help you every step of the way so when you go to teach English abroad you will be the great teacher that you wish to be.
So what does it take to be the ideal teacher? According to various studies where students were asked this question, the ideal teacher has a wide range of knowledge and is patient and understanding, has lots of energy and is entertaining while also being able to discipline the class. We all know that this may seem impossible sometimes, but students insist that as long as they are treated with respect, they understand that excellent teachers are human too and that nobody can be perfect all of the time.
Think back to when you were a student; do you remember the hours you would spend on grammar and idioms? Doing the same thing over and over until you fell asleep? Think how you could change that for your students; when you teach English as a foreign language, learning can certainly be made fun. Best of all, if you teach English in Mexico, for example, you reap all the benefits of being a fantastic teacher while enjoying your time spent working abroad. Like being paid to be on holiday!
References:
Jeremy Harmer. How to teach English: How to be a good teacher. Longman, 1996. 1 – 3.
Wendy Scott and Lisbeth Ytreberg. Teaching English to children: Class management and atmosphere. Longman, 1990. 8 – 10.
Selected articles from the English teaching forum: Sandra Enos. The Art of TESOL: What makes a good teacher?. English Teacher forum, 1975. 344 – 345.
*Feel free to share our articles, we only ask for credit! Be sure to mention International Teacher Training Organization as the author and a link back to our website: www.tefl-online.com.