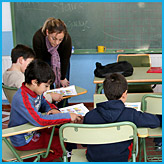 The 10 Hour Specialty Certificate Program is divided into the following units:
Unit 1 – What are TED© Talks?
TED© Talks Introduction and background
2 Benefits of using TED© Talks in the classroom
Unit 2 – General Guidelines
2.1 Choosing the right TED© Talks for my class
2.2 What you need to know before you teach using TED© Talks
Unit 3 – Ideas and Examples for Using TED© Talks
3.1 Ideas for speaking and vocabulary
3.2 Ideas for discussion and debate
Unit 4 – Planning a Lesson around TED© Talks
4.1 Tips for teaching lower levels
4.2 Lessons to get you started
DISCLAIMER.
TED© and TED Talks© are registered trademarks of TED Conferences, LLC. This course and/or certificate is not affiliated, endorsed or approved by TED Conferences, LLC. All trademarks are the property of their respective owners.